Posted on | April 4, 2014 | No Comments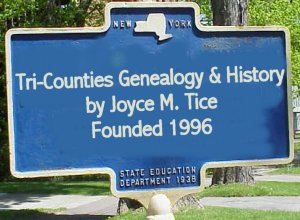 There's a website owned and maintained by Joyce Tice, with the simple title Tri-Counties Genealogy and History. Except there's nothing simple about the website, which provides thousands of pages of data on three counties: Bradford County PA, Chemung County NY and Tioga County PA. (The map you see here is from Joyce.)
A lot of my maternal grandfather's people come from this area, and I've found a lot of solid information digging through Joyce's pages. She's got everything. I mean, really everything. Birth, death, baptism, marriages as described in newspapers, church records, US census pages, published histories, cemetery rolls, military records, it just goes on and on.
A good place to start is You Gotta Know the Territory – The Links Between Genealogy, Geography and Logic, because it gives you a sense of how she approaches the complicated interplay of all things genealogical.
I still have a number of brick walls that I haven't been able to breach, even with Joyce's website. But I keeping checking back there, because it grows and grows, and sooner or later, it may divulge the facts on Elizabeth Sherman, one of my great grandmothers x3, who was born in New Jersey in 1804 and married John Coolbaugh in Bradford County in 1818. I've found newspaper items about their children getting married, a few census returns, and documentation on the fact that when John died she remarried one Israel Smith, and some of the young children of her first marriage were raised in that new household. But that's it. I'd like to find out who her parents were, and maybe someday I will.
Posted on | March 18, 2014 | No Comments
The Minisink Valley Genealogy weblog is a treasure trove of information about the Ennis line. In a post titled 17th Century Ennes Wild Cards, they look at early reports of various kinds where Ennes, Ennis or other variants of the name pop up. In fact this Ennes family may be distinct from my own Ennis line, as MVG has been looking at Dutch connections, pursuing  a possible link to the Goederus line. Note: I would gladly give credit to the individual who did all this research, but they keep a low profile at MVG).
I first came across the weblog when I was searching for more information Ennis and Shoemaker men born in the mid 18th century, after I discovered  Elijah Shoemaker (1747 – 1778)  and Daniel Ennis, (1745 – 1838) whose brother Cornelius is my 4x great-grandfather.   The MVG post that touched on Daniel led to the online text of Snell's History of Sussex & Warren Counties, which is an excellent resource.
Daniel and Elijah were second cousins and they also were slaveholders (I've written at more length about this here) which was just as brutal in the north as it was in the south; it just ended sooner.  I have yet to determine just how wide-spread the practice was.
Posted on | April 19, 2013 | No Comments
I've put together a short, illustrated tutorial on how to use the various features of the genealogy pages, which is available here. Please let me know if it is of use to you.
keep looking »