Posted on | May 27, 2014 | No Comments
I have been thinking about applying for Italian citizenship, for which I am eligible because my Italian grandfather did not apply for American citizenship until after my father's birth. That's the crucial fact, but it wasn't easy to find until I found this,   his application for a passport. This is a pretty legible image, and if you click on it and look at the full sized version you'll see that it states that he became a naturalized citizen in 1912. My father was born in 1911. So far so good.
But Italians are ironically both easy-going and lovers of red tape, and the list of documents required is  mind-numbing. From the My Italian Family website (along with my notes in red, of course):

If your father was born in the United States, your paternal grandfather was an Italian citizen at the time of your father's birth and neither you nor your father ever renounced your right to Italian citizenship, you must obtain the following documents, all in original:

1) YOUR PATERNAL GRANDFATHER'S BIRTH CERTIFICATE FROM ITALY (the birth certificate must be either in "formato internazionale", or in "estratto per riassunto" showing his father and mother's names).  Note: my grandfather was illigitimate but his father officially claimed paternity, in writing. What will this mean in Catholic Italy? Am I banished from possible citizenship?

2) YOUR PATERNAL GRANDMOTHER'S BIRTH CERTIFICATE  Note: her family is a mystery, but maybe if I pay the My Italian Family people, they'll be able to figure it out. At this point all I have (after two genealogists searched) is a misspelled notation in a baptismal register.

3) YOUR GRANDPARENTS' MARRIAGE CERTIFICATE (if the marriage took place in Italy, follow the procedure above). If it took place in the U.S.A., you must obtain a "certified copy" of the license and certificate and an APOSTILLE from the Secretary of State of the State in which it was issued + TRANSLATION to Italian.

4) YOUR GRANDFATHER'S CERTIFICATE OF NATURALIZATION or his Italian passport and permanent resident card ("green card").  Note: I doubt there were green cards when he was born. When he immigrated the Statue of Liberty and Ellis Island weren't even there yet.

If the above is not available, you must request the following:

A) A statement from U.S. Citizenship and Immigration Services, U.S. Department of Homeland Security, P.O.Box 648010, Lee's Summit, MO 64064-8010 AND from the County in which he resided. The statement must show his full name (and any other names he went by on any official documents), place of birth and date of birth, date of the naturalization, certificate number (or, if a legal alien, his permanent resident card number).

B) If the above-mentioned U.S. authorities return a statement of "no record", you must request from the National Archives (www.archives.gov) a full search under his name and nicknames, possible dates of birth which he may have declared, for a certified copy of his "first" and/or "final papers", that is, the "declaration of intention" and "petition for naturalization". If he was naturalized the "final papers" will also show the date and number of his naturalization.

C) If the record is still negative, you need to request the National Archives a certified copy of the census report dating after your birth. In the cases covered by categories 2, 3, 4 and 5 the census report must of course be dated accordingly – i.e. covering the period of the Italian born ascendant's child's birth.  Three opportunities to be incredibly frustrated and confused.
5) YOUR FATHER'S BIRTH CERTIFICATE (you must obtain a "certified copy" a.k.a. "full form" or "long form" (not abstract), with an APOSTILLE from the Secretary of State of the State in which it was issued + TRANSLATION to Italian.  This, at least, is possible. Though his original birth certificate in the Newburgh records office was in pencil on a sheet of paper that listed the older brothers and sisters, it would be possible to get a shiny notarized official version.

6) YOUR MOTHER'S BIRTH CERTIFICATE Why they need this, I have no idea.

7) YOUR PARENTS' MARRIAGE CERTIFICATE (with APOSTILLE from the Secretary of State of the State in which it was issued +TRANSLATION to Italian. Also possibe, but again, why?

8) YOUR BIRTH CERTIFICATE (with APOSTILLE from the Secretary of State of the State in which it was issued + TRANSLATION to Italian. Definitely possible.

9) YOUR MARRIAGE CERTIFICATE (if applicable) (with APOSTILLE from the Secretary of State of the State in which it was issued + TRANSLATION to Italian.  If your marriage certificate lacks information such as dates and places of birth, you must also obtain a certified copy of the marriage application/license. At least here there's some acknowledgment that my marriage certificate might not be relevant.

10) YOUR DIVORCE DECREE/CERTIFICATE (if applicable) (with APOSTILLE from the Secretary of State of the State in which it was issued + TRANSLATION to Italian.) The divorce decree must also include the "certificate of no appeal". How do you prove a negative? Because I'm not divorced, so I don't have one.

11) YOUR SPOUSE'S BIRTH CERTIFICATE (if applicable) Again, why?

12) BIRTH CERTIFICATES FOR ALL YOUR CHILDREN UNDER THE AGE OF EIGHTEEN (if applicable) (with APOSTILLE from the Secretary of State of the State in which it was issued + TRANSLATION to Italian.) Whew. one thing I don't have to worry about.

13) DEATH CERTIFICATE/S RELATING TO ITALIAN BORN ASCENDANTS ONLY – (with APOSTILLE from the Secretary of State of the State in which it was issued + TRANSLATION to Italian IF FOR YOUR FATHER OR GRANDFATHER). This also isn't a problem.

14) YOUR APPLICATION AND YOUR DECLARATIONS THAT YOU AND YOUR ASCENDANT NEVER RENOUNCED ITALIAN CITIZENSHIP BEFORE ANY ITALIAN AUTHORITY, LISTING ALL THE PLACES OF RESIDENCE (see attachments (PDF): 2A – 2B)  Easy enough.

15) YOUR PATERNAL GRANDFATHER'S CERTIFICATE OF ITALIAN CITIZENSHIP FROM ITALY, also known as a certificato di cittadinanza italiana (Note: Most Italian embassies and consulates do NOT require this. Please check with the Italian Consulate of the State where you reside.

All US certificates must be in "CERTIFED COPY" a.k.a. "LONG FORM" or "FULL FORM" Certificates reporting only the "County" of birth can not be accepted. You must request the Vital Statistics Authority to state the CITY OF BIRTH. For more information please visit our page of Addresses of Vital Records Offices.  It really might be worth paying somebody to take care of this.

IF YOUR GRANDFATHER BECAME A NATURALIZED U.S. CITIZEN BEFORE YOUR FATHER'S BIRTH, YOU ARE NOT ENTITLED TO ITALIAN CITIZENSHIP (unless you fit into another category). Here I'm okay.

ADDITIONAL REQUIREMENTS FOR ALL CATEGORIES (please read very carefully):
Birth, Marriage, Divorce certificates in other languages than Italian, relating to Italian born spouses and to you and your minor children must be translated into Italian. Documents that do not need to be translated into Italian are those relating to the "non-Italian" side, death certificates relating to the Italian side, marriage, birth and divorce relating to "intermediate" ancestors who are not applying for citizenship and the U.S. Certificate of Naturalization or any statement releasing information on the naturalization status of the ancestor. APOSTILLE do not need to be translated.

DISCREPANCIES:
Check all documents word by word to make sure that there are no discrepancies or changes in the names, last names, dates and places of birth. All documents issued outside Italy must bear the name or family name of the interested parties exactly as issued on the original Italian birth certificate; eg. (Brambilla and not Brimbilla)
All variation or errors must be corrected with an official "affidavit to amend a record" to be requested from the Vital Statistics Office that issued the document or with other appropriate official document.
Please have a list of all the discrepancies that you found in the documents.
This is required for the Citizenship Office to expedite your request.
This last one is the real headache.
I have noted before that my grandmother was an orphan, and her background is so murky than all ten of her children disagreed on her official name. The first thing I remember hearing about her was Aunt Kate saying my mother's name was Rose Rose and you were named for her.  Except it's not recorded as Rose Rose anywhere. Rosina Rose, Rose Russo, Rosina Russo, Rose Russ, and a dozen other versions, sure. So how do you explain that to the Italian Consulate?  And also, my grandfather's name was Federico on his birth certificate, but in this country that translates to Frederick. He signed himself Fred or Frederick Lippi. Will this need a long explanation, too, or can some things be taken on faith; i.e., that the addition of an 'r' did not change his identity?
Watch this space. I'll let you know just how powerful that 'r' might be.
Posted on | April 4, 2014 | No Comments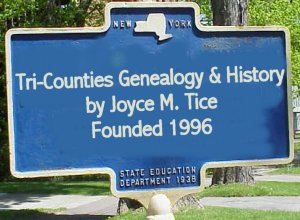 There's a website owned and maintained by Joyce Tice, with the simple title Tri-Counties Genealogy and History. Except there's nothing simple about the website, which provides thousands of pages of data on three counties: Bradford County PA, Chemung County NY and Tioga County PA. (The map you see here is from Joyce.)
A lot of my maternal grandfather's people come from this area, and I've found a lot of solid information digging through Joyce's pages. She's got everything. I mean, really everything. Birth, death, baptism, marriages as described in newspapers, church records, US census pages, published histories, cemetery rolls, military records, it just goes on and on.
A good place to start is You Gotta Know the Territory – The Links Between Genealogy, Geography and Logic, because it gives you a sense of how she approaches the complicated interplay of all things genealogical.
I still have a number of brick walls that I haven't been able to breach, even with Joyce's website. But I keeping checking back there, because it grows and grows, and sooner or later, it may divulge the facts on Elizabeth Sherman, one of my great grandmothers x3, who was born in New Jersey in 1804 and married John Coolbaugh in Bradford County in 1818. I've found newspaper items about their children getting married, a few census returns, and documentation on the fact that when John died she remarried one Israel Smith, and some of the young children of her first marriage were raised in that new household. But that's it. I'd like to find out who her parents were, and maybe someday I will.
Posted on | March 18, 2014 | No Comments
The Minisink Valley Genealogy weblog is a treasure trove of information about the Ennis line. In a post titled 17th Century Ennes Wild Cards, they look at early reports of various kinds where Ennes, Ennis or other variants of the name pop up. In fact this Ennes family may be distinct from my own Ennis line, as MVG has been looking at Dutch connections, pursuing  a possible link to the Goederus line. Note: I would gladly give credit to the individual who did all this research, but they keep a low profile at MVG).
I first came across the weblog when I was searching for more information Ennis and Shoemaker men born in the mid 18th century, after I discovered  Elijah Shoemaker (1747 – 1778)  and Daniel Ennis, (1745 – 1838) whose brother Cornelius is my 4x great-grandfather.   The MVG post that touched on Daniel led to the online text of Snell's History of Sussex & Warren Counties, which is an excellent resource.
Daniel and Elijah were second cousins and they also were slaveholders (I've written at more length about this here) which was just as brutal in the north as it was in the south; it just ended sooner.  I have yet to determine just how wide-spread the practice was.
keep looking »